My Dad came into town on business and typically he takes us out to dinner when he is here. Except this time it was a Sunday, we don't go out on Sundays, and I wanted to make dinner for him. I think I've only cooked for him one other time. He is usually up for anything and I know he doesn't get Tilapia regularly. This dish was delicious! I made some lemon rice to go with it and from Trader Joe's a frozen bag of vegetables in a balsamic buttery sauce. Yum! Tilapia is a really mild fish, and takes on the taste of the seasonings you use.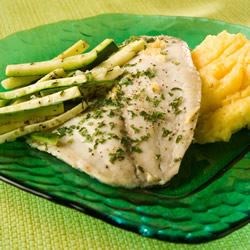 (photo courtesy of allrecipes.com)

4 tilapia fillets
3 T lemon juice
1 T butter, melted
1 clove garlic, chopped
1 t parsley
salt and pepper to taste
Preheat oven to 375 degrees. Spray a baking dish with cooking spray. Rinse fillets under cool water, and pat dry with paper towels. Place fillets in baking dish. Pour lemon juice over fillets, then drizzle butter on top. Sprinkle with garlic, parsley, and salt and pepper. Bake in preheated oven until the fish is white and flakes when pulled apart with a fork, about 25 minutes.
Lemon Rice
2 cups chicken broth
1 cup white rice
2 teaspoons grated lemon peel
2 tablespoons lemon juice
2 teaspoons melted margarine

In a two-quart baking dish, mix together all ingredients except the broccoli.
Bake at 325° F for 50–60 minutes until tender.