The other week when I was grocery shopping I accidentally grabbed cream of celery instead of cream of chicken. I have never used cream of celery and had no idea what to do with it. I searched high and low on the internet to find a good recipe to use it in. I came across this chicken and dumplings recipe and it was delicious! It was incredibly simple and only has four ingredients,
(though many reviews I read people adjusted by adding more things, but I thought it was delicious the way it is)
.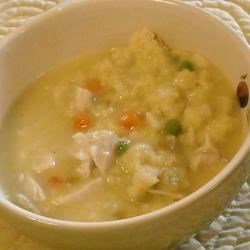 6 boneless, skinless chicken breast
2 cans cream of celery
salt and pepper
1 pkg refrigerated biscuit dough
In a large pot over high heat, combine the chicken with enough water to cover, and boil for 15-20 minutes. Drain some of the water, reserving 3 cups in the pot. Remove chicken and allow to cool, then pull it apart into bite size pieces, return to pot. Reduce heat to medium, and add the cans of cream of celery. Season with salt and pepper. Pull biscuit dough into pieces, and add to the soup. Simmer over medium heat for 7-8 minutes, or until dough is cooked through. Serves 4.